Meet the Doctors
Dr. Richard J. Salvatore Sr.
A Schenectady native, Richard J Salvatore Sr., DDS, attended Linton High School, graduating in 1961. Dr. Richard Sr. attended Gannon University in Erie, PA, obtaining a degree in general science and secondary education. After graduating, he taught biology, chemistry, and earth science at Oneida Junior High for a year before deciding to follow in his father's, brothers' and sister's footsteps to attend dental school. Dr. Richard Sr. graduated from Loyola Dental School in 1971. During that year, he joined the family dental practice at 609 Union Street in Schenectady, NY. Dr. Richard Sr. continued his practice solely in Schenectady until 1995 with the opening of the Malta office. In 2007, the Schenectady location was closed, and Dr. Richard Sr. began practicing in Malta, NY full-time.
When Dr. Richard Sr. is not practicing dentistry, you will most likely see him in his garage. A car buff, Dr. Richard Sr. restored Jaguars to show quality. In 1980, winning 9 out of 10 shows, he brought his 1955 Jaguar XK140 to #2 in the nation for show cars. Other past projects include a yellow Lamborghini Diablo and a 1949 Mark V Jaguar Saloon that he decided to "chop the top," add a 350 Chevy engine, lowered it four inches, making it into his first hot rod. The most current project is building a 19 foot, barrel back, Chris Craft from plans!
Dr. Richard J. Salvatore Jr.
Growing up on Saratoga Lake, Richard J Salvatore Jr., DDS, attended Ballston Spa High School, graduating in 2002. As a senior in high school, he attended the New Visions program based in Saratoga Springs. Spending three days a week rotating though different hospitals and private medical offices, he was given the opportunity to experience all branches of medicine. From then on, he knew that dentistry was the right fit for him. Dr. Richard Jr. attended Northeastern University in Boston, MA, graduating in 2006 with a biology degree. Next, he attended the University at Buffalo School of Dental Medicine, followed by a one-year general practice dental residency at the Erie County Medical Center.
Dr. Richard Jr. has many hobbies, including photography, bass guitar, and skiing (snow and water). He enjoys the summer and winter equally, traveling from the Adirondacks to the Rockies looking for an adventure. Dr. Richard Jr. always has a camera close, and his photography is displayed on the walls of the office!
Dr. Vera Popova Salvatore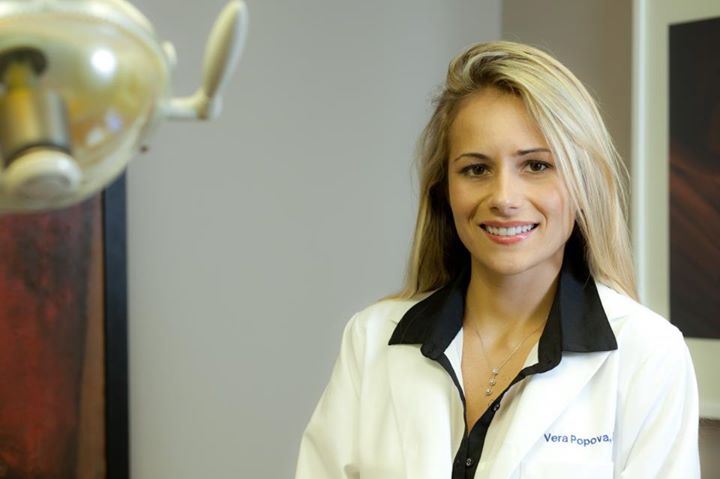 Vera Popova Salvatore, DDS, was born in Ivano-Frankivsk in Ukraine. She lived in Ukraine until age 11, when she moved to Bay Ridge in Brooklyn, NY. Both of Dr. Vera's parents were dentists in Ukraine, and it was not long before she decided to follow her family's career path. Dr. Vera attended Fort Hamilton High School in Brooklyn, then Binghamton University for her undergraduate degree. She graduated with a BA in biology, next taking her studies to the University at Buffalo School of Dental Medicine. Dr. Vera graduated cum laude earning the American Academy of Esthetic Dentistry Award and the International College of Dentists Award. After dental school, she attended a one-year general practice residency at Ellis Hospital in Schenectady, NY. At Salvatore Dental, Dr. Vera enjoys all aspects of dentistry as well as seeing children starting at the age of 1!
Dr. Vera is an avid tennis player. Her first job was working as a ball girl at the US Open, where she met many of her idols and was hit by Andre Agassi's serve! Reebok sponsored her in high school, and she was captain of the division-one tennis team at Binghamton University.